Chinese New Year
В китайском лунном календаре каждый год имеет свой символ - одно из двенадцати животных. Прочитай историю о том, как Нефритовый император определил, в каком порядке животные будут следовать друг за другом в календаре. Посмотрим, кто же выиграл великое соревнование?
https://learnenglishkids.britishcouncil.org/sites/kids/files/attachment/short-stories-the-great-race-transcript.pdf
Interesting Facts for Kids
Here are some interesting Chinese New Year Facts which were chosen and researched by kids especially for kids.
This new year celebration is also called Lunar New Year and celebrated also as Spring Festival. It is celebrated in January or February in many countries around the world.
This year, the first month of the new lunar year starts according to the Chinese calendar on 5 February 2019.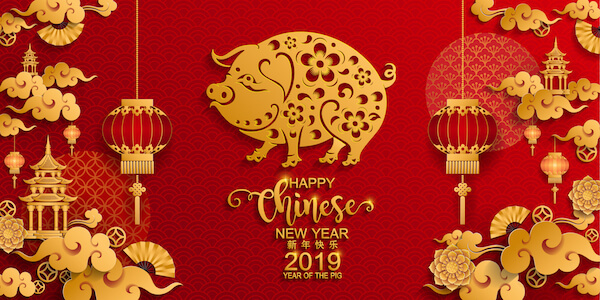 Happy Chinese New Year - 2019 - Year of the Pig
Many countries celebrate the new year according to the Chinese Calendar and not only to our calendar which is the Gregorian calendar starting on the 1st of January.
Lunar New Year is an important public holiday for many countries including China, South Korea, Vietnam, Singapore, Malaysia, Indonesia and Taiwan. In many countries, Chinese communities celebrate in the city's 'Chinatown' districts.

What is Chinese New Year?
This important date on the Chinese calendar has been celebrated for many centuries. During the festivities ancestors are honoured and traditional ceremonies are held where people get together and welcome the new year with customs that shall bring good luck, good fortune, wealth, prosperity and happiness.
The spring festival festivities for the new year take 15 days in most countries. The new year is often celebrated with dragon dances, lion dances, gift exchanging and fireworks. It ends typically with lantern festivals on the 15th day of the first calendar month. See below an image from the Pingxi Sky Festival which is celebrated in Taiwan every year to end the new year's festivities.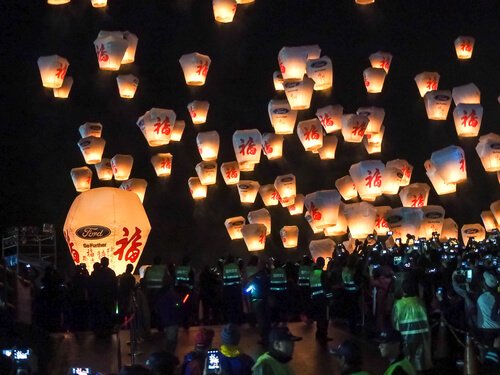 Lantern Festival in Taiwan
The Chinese Calendar
The Chinese calendar is about one month behind our (so called Gregorian) calendar as it has between 30 and 50 more days per year. And the Chinese zodiac calendar has a cycle of 12 years. The calendar was started on astronomical observations of the moon's phases.
Each year a Chinese zodiac animal is the symbol for the year.
The 12 Chinese zodiac animals are: rat, ox, tiger, rabbit, dragon, snake, horse, goat, monkey, rooster, dog, and pig.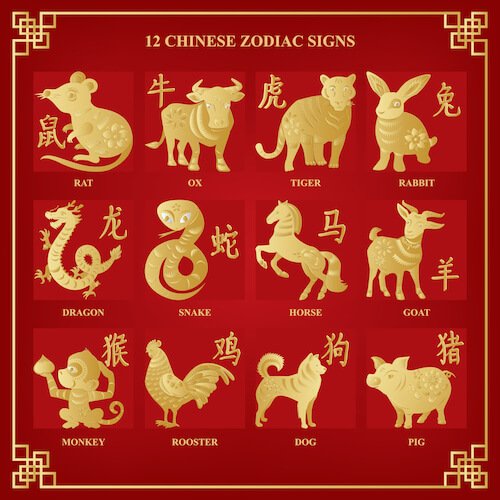 Look again at the listing of animals! They always come in the same order, so 2018 was the year of the dog, 2019 is the year of the pig and 2020 will be the year of the rat. Which year will it be in 2021? (We share the answer at the bottom of the page under 'Resources')
Lunar New Year Wishes
People wish each other good luck, happiness and wealth for the new year. The words used most in good wishes are: happiness, wealth, prosperity, prosperous, auspicious
'Gong Xi Fa Cai' means 'Have a prosperous new year'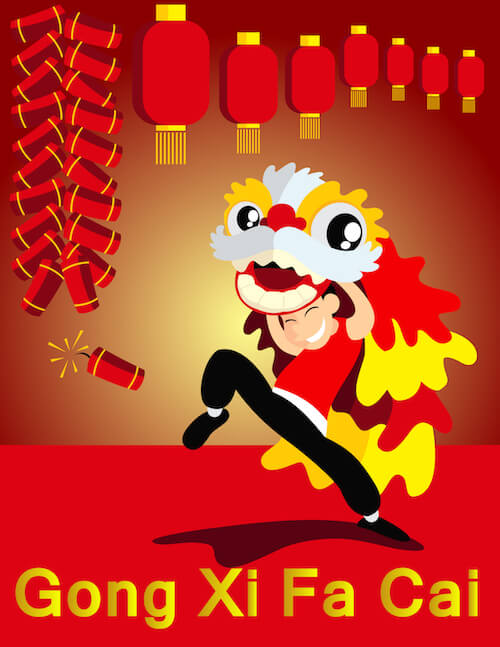 Most common are the Mandarin words: Gong Xi Fa Cai (try to pronounce it as Gong-she-faa-tsai) and the Cantonese: Gong Hey Fat Choy (pronounce it as: Gong Hee Faat Choy). Both wishes mean: Wishing you a prosperous new year.

Chinese New Year Food
People eat 'auspicious food' during the new year period. For many, this means fish dishes. A fish is a symbol of good luck, wealth and healthy life.
Dumplings are traditionally eaten during the festivities. These little round rice flour balls are often filled with vegetables. Mandarin oranges, dried fruit and even sweets are seen as lucky food. Candy boxes and little round shaped biscuits symbolising gold or fortune are served everywhere.
And make sure your plate is never empty, as this would be seen as your luck has run out. Food is often prepared up to a week before, so one must not use a knife or fire for cooking on New Years day, as cutting with a knife for many would symbolise ill luck.
A popular food are long noodles that symbolise good fortune as well as a long life.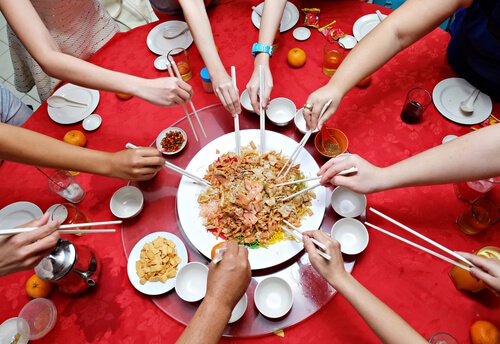 Typical 'good luck dish' Yusheng
A typical new year's dish is Yusheng. This raw fish salad with rice or long noodles is eaten during by many during the festive period.
Many eat Yusheng on the seventh day of the new year. The dish is a symbol for wealth and longevity, this fish salad is usually served in a huge dish in the middle of a table, where family members and friends toss the noodles in the big bowl together and then eat.
Lunar New Year Traditions
Dragon dances and lion dance festivals will usher in the new year in many cities. Some families may even invite a dance troupe into their homes as well.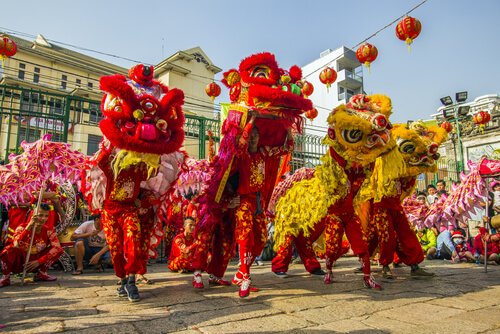 Lunar New Year Dragon Dance in Vietnam
Firecrackers are lit as these shall bring good luck and fortune. However, due to security reasons, firecrackers are banned in many areas nowadays and official fireworks displays are held instead.

On the second day of the new year, families will visit each other and hand over little gifts. And sometimes the family dog gets a gift too!
Gifts are handed money or little tokens in red packets or envelopes as these symbolise prosperity and happiness. Married family members hand red envelopes (called hongbao in Mandarin) with money to others to show their goodwill and give blessings for the new year to the other family members.
Children sometimes get oranges, sweets or coins. Always make sure to give an even number of gifts or in the amount of money. So always at least two mandarins, two packets or two coins. And the number eight is considered an especially lucky or auspicious number.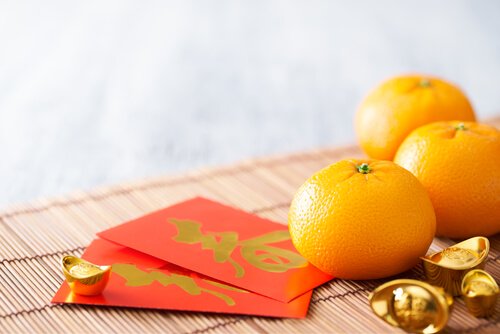 Typical Lunar New Year gifts
The bright colours and especially red colours are seen as a lucky symbol. Red decorations, lanterns and colourful symbols can be seen everywhere. These shall attract luck and prosperity for the year to come.
Many people dress mainly in red coloured clothing for the festivities. Often people also buy new clothes to show that a fresh beginning is celebrated with the new year. In the Mandarin language, the word for 'red' has the same sound as the word for 'prosperous'.
Chinese New Year Customs: What not to do
There are some rules when observing Chinese New Year. For example, scissors and brooms are banned to stay in the cupboards on the first day of Lunar New Year. These tools are considered to create bad luck for the year to come and brush away the good luck. So better keep them out of sight and out of action on this day!
Do not wash or cut your hair on the first days of the Lunar New Year. This would be seen as a sign of washing and cutting away good luck.
Do not clean your house with a broom on the first day of Lunar New Year. Cleaning is a sign of swiping away good luck - so if one has to clean something away, then it must be done after dark.
Do not do laundry on Chinese New Year. Doing laundry means washing away of good luck and wealth.
Don't give gifts which are black or white in colour. Also do not give clocks or watches or shoes. Watches would mean that time is running out and shoes would mean that one could walk away from the friendship or relationship.
Don't give gifts in uneven numbers. Always give gifts in pairs such as two oranges or two coins.
Don't dress in white, black or dark blue during this time. Wear colourful clothing, especially red, orange, and yellow colours are appreciated.
Chinese Zodiac Signs
The Chinese distinguish between five types of each animal species in their zodiac according to the elements: fire, earth, metal, wood and water.


The Chinese zodiac signs will be combined with the five elements. There are five different specific animals such as the fire rooster (2017) or the earth ox (2009) or metal/gold tiger (2010). For 2019 we should say: 2019 is the Year of the earth pig.

People are assigned a zodiac sign according to their year of their birth. And zodiac signs are said to show certain characteristics. 'Pig' characteristics would apply then for people born in the 'year of the pig': These people are considered as energetic, enthusiastic, tolerant and hard working but sometimes a bit overconfident and very busy.
Are you or anybody in your family born in the year of the dog? The last 'pig' years were: 2007, 1995, 1983, 1971 or 1959.
Chinese New Year - Resources
---
Chinese New Year - Answer to question in section titled 'Chinese Calendar': 2021 will be the year of the ox.
---
Feel free to contact us if you or your school would like to join in our schools project. Looking forward to hearing from you!
And enjoy learning more great China Facts on our country facts page here.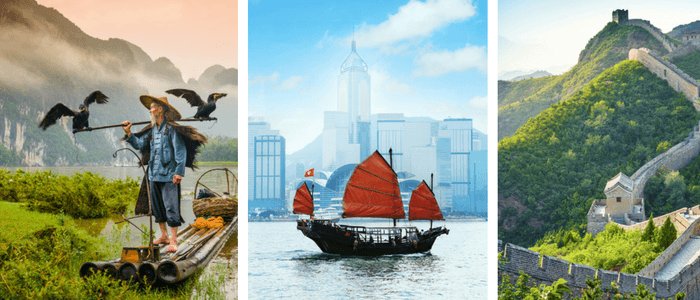 Happy New Year's Day
New Year's Day is a national holiday celebrated on January 1st, the first day of the New Year, following both the Gregorian and the Julian calendar. This New Years' holiday is often marked by fireworks, parades, and reflection upon the last year while looking ahead to the future's possibilities. Many people celebrate New Year's in the company of loved ones, involving traditions meant to bring luck and success in the upcoming year. Many Cultures celebrate this happy day in their own unique way. Typically the customs and traditions of happy New Years Day involve celebrating with champagne and a variety of different foods. New Years marks a date of newly found happiness and a clean slate. For many celebrating New Years, it is their opportunity to learn from the prior year and make positive changes in their life.
New Year's Day Holiday History
New Year's is one of the oldest holidays still celebrated, but the exact date and nature of the festivities has changed over time. It originated thousands of years ago in ancient Babylon, celebrated as an eleven day festival on the first day of spring. During this time, many cultures used the sun and moon cycle to decide the "first" day of the year. It wasn't until Julius Caesar implemented the Julian calendar that January 1st became the common day for the celebration. The content of the festivities has varied as well. While early celebrations were more paganistic in nature, celebrating Earth's cycles, Christian tradition celebrates the Feast of the Circumcision of Christ on New Year's Day. Roman Catholics also often celebrate Solemnity of Mary, Mother of God, a feast honoring Mary. However, in the twentieth century, the holiday grew into its own celebration and mostly separated from the common association with religion. It has become a holiday associated with nationality, relationships, and introspection rather than a religious celebration, although many people do still follow older traditions.
New Year's Day Resolutions and Traditions
While celebration varies all over the world, common traditions include:
Making resolutions or goals to improve one's life.
Common resolutions concern diet, exercise, bad habits, and other issues concerning personal wellness. A common view is to use the first day of the year as a clean slate to improve one's life.
A gathering of loved ones: Here you'll typically find champagne, feasting, confetti, noise makers, and other methods of merriment Fireworks, parades, concerts.
Famous parades include London's New Year's Day Parade and the Rose Parade in Pasadena, California. Superstitions concerning food or visitors to bring luck.
This especially includes circle-shaped foods, which symbolize cycles. The reasoning behind superstitions is that the first day of the year sets precedent for the following days. A common superstition specific to New Year's Day concerns a household's first visitor of the year—tradition states that if a tall, dark-haired stranger is the first to walk through your door, called the First Footer or Lucky Bird, you'll have good luck all year. Also, if you want to subscribe to superstition, don't let anything leave the house on New Year's, except for people. Tradition say's: don't take out the trash and leave anything you want to take out of the house on New Year's outside the night before. If you must remove something, make sure to replace it by bringing an item into the house. These policies of balance apply in other areas as well—avoiding paying bills, breaking anything, or shedding tears.
Toasts typically concern gratefulness for the past year's blessings, hope and luck or the future, and thanking guests for their New Year's company. In coastal regions, running into a body of water or splashing water on one another, symbolizing the cleansing, "rebirth" theme associated with the holiday.
However, many nations and cultures within them have their own characteristic way of celebrating:
New Years Food
American Citizens often celebrate with a party featuring toasting, drinking and fireworks late into the night before the New Year, where the gathering counts down the final seconds to January 1st. Some might even get a kiss at midnight. Many English speaking countries play "Auld Lang Syne," a song celebrating the year's happy moments. Americans often make resolutions and watch the Time Square Ball drop in New York City. Although much of this celebration occurs the night before, the merrymaking typically continues to New Year's Day. Football is a common fixture on New Year's Day in America, usually the day of the Rose Bowl. Some foods considered "lucky" to eat during the festivities include:
Circular shaped foods
Black-eyed peas
Cabbage
Pork
New Years France
The French typically celebrate New Year's with a feast and a champagne toast, marking the first moments of New Year's Day with kisses under the mistletoe, which most other cultures associate with Christmas celebrations. The French also consider the day's weather as a forecast for the upcoming year's harvest, taking into account aspects like wind direction to predict the fruitfulness of crops and fishing.
New Years Phillipines
In the Philippines, celebrations are very loud, believing that the noise will scare away evil beings. There is often a midnight feast featuring twelve different round fruits to symbolize good luck for the twelve months of the year. Other traditional foods include sticky rice and noodles, but not chicken or fish because these animals are food foragers, which can be seen as bad luck for the next year's food supply.
Greece
Greeks celebrate New Year's Day with card games and feasting. At midnight, the lights are turned off, followed by the Basil's Pie, which contains a coin. Whoever gets the piece of pie containing the coin wins luck for the next year.
New Years Soviet Union
The Soviet Union's New Year's Day celebrations have been greatly affected by the Union's history. As religion was suppressed and Christmas celebrations were banned, New Year's, or Novi God celebrations often include Christmas traditions such as decorated trees, which were reconsidered as New Year Fir Trees. As the suppression left, these traditions stayed part of the New Year's Day celebration. The holiday is also celebrated with feasts, champagne, and wishes.
New Years Spain
Spaniards celebrate New Year's Day with the custom of eating twelve grapes, each eaten at a clock-stroke at midnight.
Cold-water plunges
In colder countries close to water, such as Canada, parts of the United States, the United Kingdom, and the Netherlands, it is customary to organize cold-water plunges. These plunges and races, sometimes called a Polar Bear Plunge, often raise money for charity or awareness for a cause.
For thousands of years, New Year's has been a festival of rebirth and reflection, allowing people all over the world to celebrate another great year.
New Year's Song
The song, "Auld Lang Syne," is sung at the stroke of midnight in almost every English-speaking country in the world to bring in the new year. At least partially written by Robert Burns in the 1700's, it was first published in 1796 after Burns' death. Early variations of the song were sung prior to 1700 and inspired Burns to produce the modern rendition. An old Scottish tune, "Auld Lang Syne" literally means "old long ago," or simply, "the good old days." The lyrics can be found here.